https://audioboots.org/Albums/90sMashed/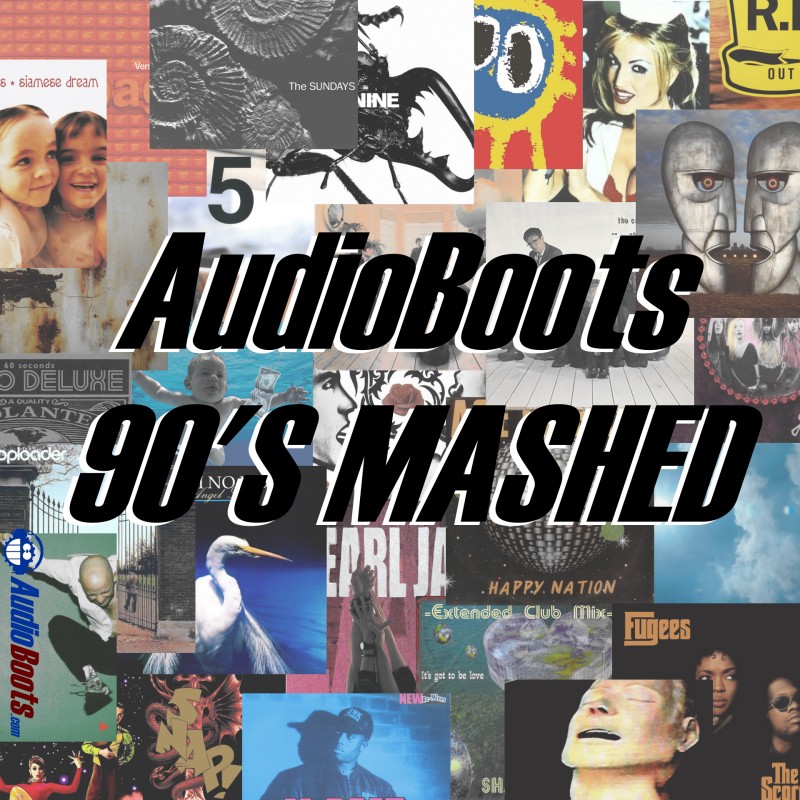 What is your idea of the vibe of the 90's?
This is the answer given by 20 bootleggers: 40 all new and unreleased mashups or mixes divided in 3 Discs, Dance, Rock, Pop and more.
With Amoraboy, AtoZ , chocomang, Eternal Khaos, Hahnstudios, Jesus Cadena, DJ Joan Caramba,
MasheteMixes, MashGyver, DJ MXR, Oki, DJ Petrushka, rillen rudi, Rudec, satis5d, SgtMash, SMASH, Spider, DJ Useo, Xam.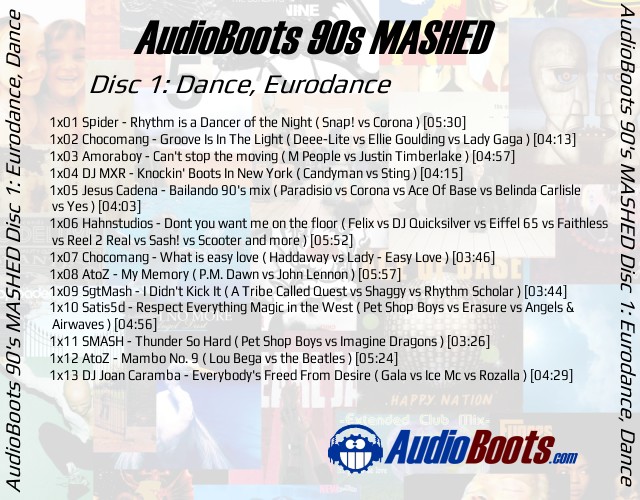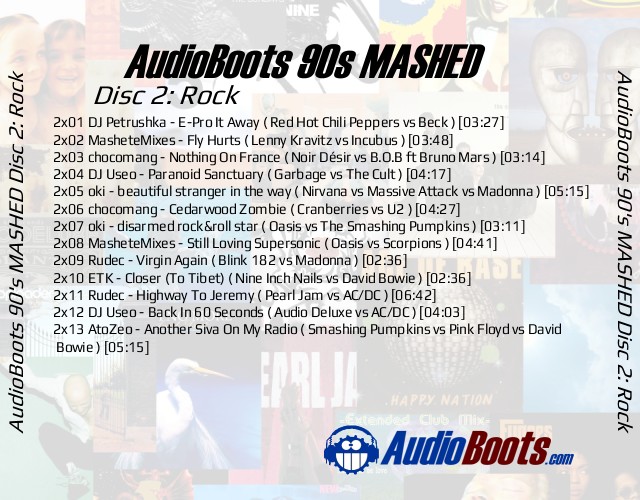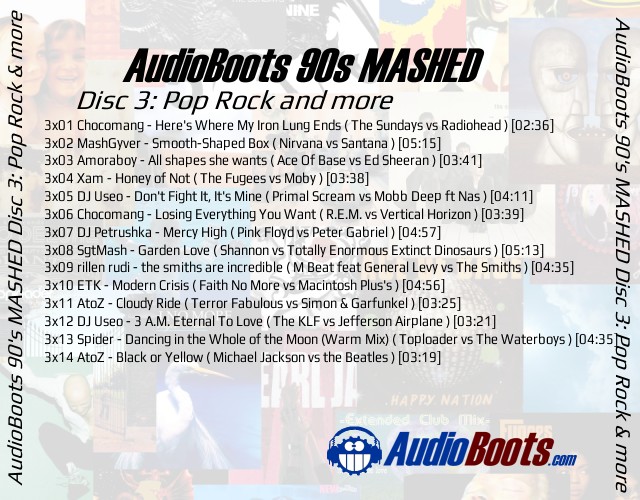 DOWNLOAD HERE
https://audioboots.org/Albums/90sMashed/
Disc 1
: Eurodance, Dance
1x01 Spider - Rhythm is a Dancer of the Night ( Snap! vs Corona ) [05:30]
1x02 Chocomang - Groove Is In The Light ( Deee-Lite vs Ellie Goulding vs Lady Gaga ) [04:13]
1x03 Amoraboy - Can't stop the moving ( M People vs Justin Timberlake ) [04:57]
1x04 DJ MXR - Knockin' Boots In New York ( Candyman vs Sting ) [04:15]
1x05 Jesus Cadena - Bailando 90's mix ( Paradisio vs Corona vs Ace Of Base vs Belinda Carlisle vs Yes ) [04:03]
1x06 Hahnstudios - Dont you want me on the floor ( Felix vs DJ Quicksilver vs Eiffel 65 vs Faithless vs Reel 2 Real vs Sash! vs Scooter and more ) [05:52]
1x07 Chocomang - What is easy love ( Haddaway vs Lady - Easy Love ) [03:46]
1x08 AtoZ - My Memory ( P.M. Dawn vs John Lennon ) [05:57]
1x09 SgtMash - I Didn't Kick It ( A Tribe Called Quest vs Shaggy ) [03:44]
1x10 Satis5d - Respect Everything Magic in the West ( Pet Shop Boys vs Erasure vs Angels & Airwaves ) [04:56]
1x11 SMASH - Thunder So Hard ( Pet Shop Boys vs Imagine Dragons ) [03:26]
1x12 AtoZ - Mambo No. 9 ( Lou Bega vs the Beatles ) [05:24]
1x13 DJ Joan Caramba - Everybody's Freed From Desire ( Gala vs Ice Mc vs Rozalla ) [04:29]
01:00:32
Disc 2
: Rock
2x01 DJ Petrushka - E-Pro It Away ( Red Hot Chili Peppers vs Beck ) [03:27]
2x02 MasheteMixes - Fly Hurts ( Lenny Kravitz vs Incubus ) [03:48]
2x03 chocomang - Nothing On France ( Noir Désir vs B.O.B ft Bruno Mars ) [03:14]
2x04 DJ Useo - Paranoid Sanctuary ( Garbage vs The Cult ) [04:17]
2x05 oki - beautiful stranger in the way ( Nirvana vs Massive Attack vs Madonna ) [05:15]
2x06 chocomang - Cedarwood Zombie ( Cranberries vs U2 ) [04:27]
2x07 oki - disarmed rock&roll star ( Oasis vs The Smashing Pumpkins ) [03:11]
2x08 MasheteMixes - Still Loving Supersonic ( Oasis vs Scorpions ) [04:41]
2x09 Rudec - Virgin Again ( Blink 182 vs Madonna ) [02:36]
2x10 ETK - Closer (To Tibet) ( Nine Inch Nails vs David Bowie ) [02:36]
2x11 Rudec - Highway To Jeremy ( Pearl Jam vs AC/DC ) [06:42]
2x12 DJ Useo - Back In 60 Seconds ( Audio Deluxe vs AC/DC ) [04:03]
2x13 AtoZeo - Another Siva On My Radio ( Smashing Pumpkins vs Pink Floyd vs David Bowie ) [05:15]
00:53:32

Disc 3
: Pop Rock and More
3x01 Chocomang - Here's Where My Iron Lung Ends ( The Sundays vs Radiohead ) [02:36]
3x02 MashGyver - Smooth-Shaped Box ( Nirvana vs Santana ) [05:15]
3x03 Amoraboy - All shapes she wants ( Ace Of Base vs Ed Sheeran ) [03:41]
3x04 Xam - Honey of Not ( The Fugees vs Moby ) [03:38]
3x05 DJ Useo - Don't Fight It, It's Mine ( Primal Scream vs Mobb Deep ft Nas ) [04:11]
3x06 Chocomang - Losing Everything You Want ( R.E.M. vs Vertical Horizon ) [03:39]
3x07 DJ Petrushka - Mercy High ( Pink Floyd vs Peter Gabriel ) [04:57]
3x08 SgtMash - Garden Love ( Shannon vs Totally Enormous Extinct Dinosaurs ) [05:13]
3x09 rillen rudi - the smiths are incredible ( M Beat feat General Levy vs The Smiths ) [04:35]
3x10 ETK - Modern Crisis ( Faith No More vs Macintosh Plus's ) [04:56]
3x11 AtoZ - Cloudy Ride ( Terror Fabulous vs Simon & Garfunkel ) [03:25]
3x12 DJ Useo - 3 A.M. Eternal To Love ( The KLF vs Jefferson Airplane ) [03:21]
3x13 Spider - Dancing in the Whole of the Moon (Warm Mix) ( Toploader vs The Waterboys ) [04:35]
3x14 AtoZ - Black or Yellow ( Michael Jackson vs the Beatles ) [03:19]
00:57:21