May 19, 2016 AudioBoots presents
Chillax Come Down 2,
Mashups To Chill Your Boots.
A yawn, a stretch, perhaps a sip. Then you find yourself in a musical spiral of relaxation. The gentle genre clash of bootleg mixing reaches past your ears, surrounding your grey matter with cascades of audio love. We now present you Chillax 2 from the fine folk at AudioBoots. Two discs of inspired mashups from peeps who know what to do. Shower the tunes on your soul!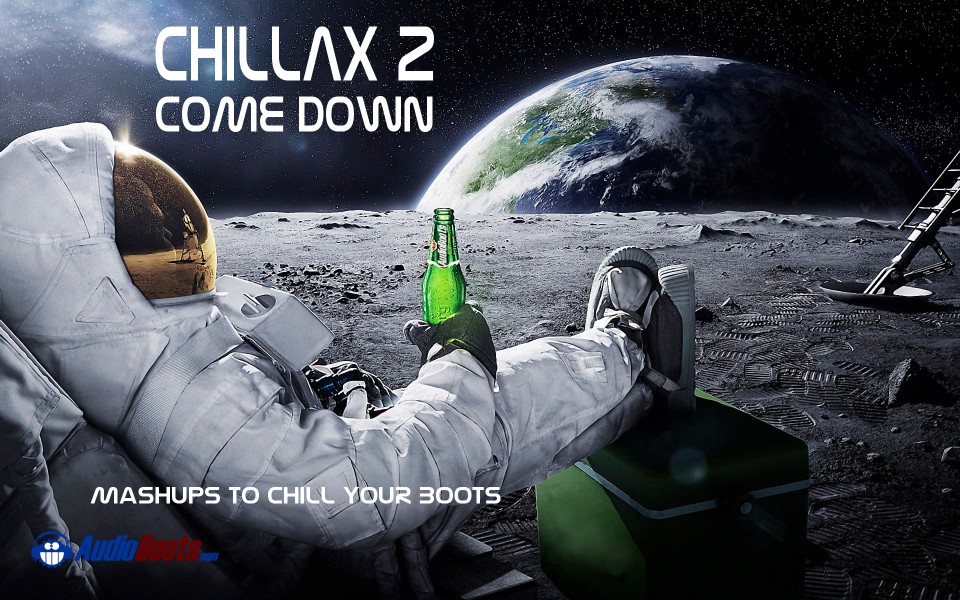 DISC ONE -
01 Carmesi de la Medina ( Quimera vs Morcheeba ) - mARKYbOY
02 Inside My Roads ( Groove Armada vs Portishead ) - DJ Gaya
03 Plush Destiny ( Zero 7 vs Stone Temple Pilots ) - Daw-Gun
04 Gone Spiral ( William Orbit vs Linkin Park ) - chocomang
05 You Never Know Rock ( Goldfrapp vs AC-DC vs Joan Jett ) - DRA'man
06 Sappy Unforgiven In Time ( Metallica vs Deep Purple vs Nirvana ) - Rudec
07 The Fear of Playing Russian Roulette ( Ian Brown vs Rihanna ) - rillen rudi
08 I Haven't Seen Much Of This Land ( Clannad vs Ripperton ) - DJ Useo
09 Enjoy The Blood ( Morcheeba vs Morcheeba vs Morcheeba ) - chocomang
10 Dance Roxanne ( Sexy Lounge Players vs Bee Gees vs The Police ) - Michmash
11 Royal Rushing ( Moby vs Lorde ) - chocomang
12 Fragile Flowers and Silent Rain ( Sneaker Pimps vs Sting ) - mARKYbOY
13 First Melt ( Susumu Yokota vs R&J emp ) - Zigmund Fraud
14 Parallel Blob Grind Life ( Alice In Chains vs Starseeds vs Phreaky ) - DJ Useo
15 Tennis Chair ( Lorde vs Morcheeba ) - chocomang


DISC TWO -
16 Please Don't Leave Your Man ( Bruno Mars vs Pink ) - Mighty Mike
17 Guerilla Radio's Dream ( Parov Stelar vs Rage Against the Machine ) - Mr Smuggler
18 Chill Bieber ( Art of Noise vs Justin Bieber ) - Oki
19 In The Otherwise Line ( Zero 7 vs Morcheeba ) - chocomang
20 Rebel Autumn ( Grieves vs Billy Idol ) - DRA'man
21 Jam Takes You ( Goldfrapp vs Moby vs Mic Geronimo ) - chocomang
22 Blooming Cool ( Hans Zimmer vs Isaac Watts ) - Zigmund Fraud
23 Nas is Like Tamastica ( Jungle by Night vs Nas ) - Skibilibop
24 Girls Wanna Jump ( Christina Aguillera vs Van Halen ) - Michmash
25 All Of A Sudden The Akond ( Ken Nordine vs Simon Baker & Robert James ) - DJ Useo
26 Nothing Shows Me Love 2 U ( Sinead O'Connor vs Robin S ) - Joan Caramba
27 This is Light Speed ( Gerald de Palmas vs Massive Attack vs Staind ) - chocomang
28 I'm Sexy And I Reggaelize It ( Drunk LMFAO vs Lion Riddim ) - Rudec
29 Egyptian Prayer Cream ( Robyn Hitchcock vs Kevi Anavi ) - DJ Useo
30 Diane's Crafty ( John Mellencamp vs Beastie Boys ) - Rudec


Bonus
Album Trailer